With Don Hume currently offering 6 different IWB holster models, we routinely see and are asked questions about one of the holster models called the PCCH. The PCCH (which is an acronym for Preferred Concealment Carry Holster) is considered, by Don Hume, to be the flagship IWB holster model that they offer.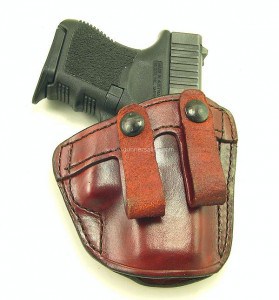 Customers are always interested in knowing what makes the PCCH better than the other Hume models? For starters, the PCCH isn't necessarily better, just different and offers a few individual features not found together on all of the other Hume IWB models. Basically, Hume took what they believed to be the "best" features of their different IWB models and combined them into the PCCH (which bears a serious resemblance to the popular Milt Sparks Summer Special)
So what's better or different: (If you aren't familiar with some of these terms, then check out this post about commonly used holster terms.
Bodyshield – Until about 2 years ago, the PCCH was the only IWB model produced by Hume that featured a bodyshield. It's been a very desirable feature for some people, so Don Hume finally incorporated one into the H715M WCS model as well.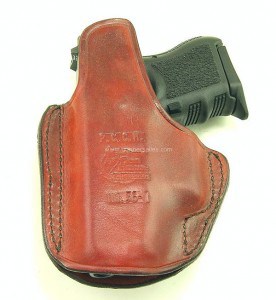 Forward cant – The PCCH is also the only Hume model that is built with a forward cant ride. While the cant doesn't appear to be a true 15 degree cant favored by many, it's still running a forward cant. although I've asked Don Hume what the cant rides at, and they never actually measured the degree. If I were to estimate, I'd say it's about a 10 degree cant.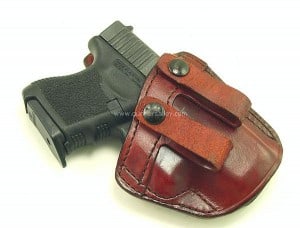 I'm always asked what I think about the PCCH so here are my thoughts:
Overall, I like the PCCH as a CCW holster. The snap straps make it relatively easy to get off and own, although the one way snaps can be a bit tricky at times. The bodyshield is a nice feature and I do like the forward cant ride. My only issues with the PCCH are the following:
#1 – Like all Hume holsters, the snap straps are designed to fit any belt up to 1 3/4″ wide. While that works fine for me, I really wish Hume would start making holsters in different models with different belt width configurations. For example, I'd love to be able to get a PCCH with 1.5″ belt snaps as that's the belt width I usually wear. I'm just being picky now as I understand a change like that would drive up the production costs of the holster.
#2 – While the PCCH is made in models to fit a wide variety of handguns, it isn't offered for nearly as many pistols as the H715M W/C. I'd like to see Don Hume expand the gun selection for this model and start producing it for more handguns.
Aside from those 2 minor complaints, the PCCH is definitely a holster to look at if you want snap straps, a bodyshield, and a slight forwad cant ride. Shop for the PCCH here.
Related Posts