If you're like us, you are always keeping an eye out for the next new gun or piece of gear. Even if you're not in the market for a new gun, or looking to replace your current CCW pistol, it is interesting to see what new products are being developed and brought to market. In the firearms industry, most product introductions happen either at the SHOT show in January, or at the NRA annual meetings in April. While looking back at these two events, there were a few things that caught my attention…
Hudson H9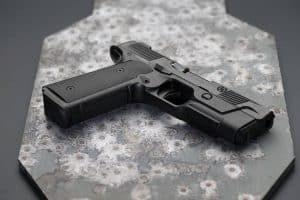 The Hudson H9 was unveiled at the SHOT show in January and made quite a splash. The Hudson H9 will try to combine striker fired reliability with a 1911 trigger. The pistols are set to start shipping to distributors around June 24th, 2017. The reports from SHOT were very promising. I have not read or seen one bad report from someone who has actually had a chance to shoot a prototype. I am not only impressed with the H9's design, but also with Hudson Manufacturing's innovation, desire for excellence, and courage to enter a market place that is dominated by some big players. I hope they succeed. You can see more information about the H9 here. MTR custom is planning to offer holsters to fit the Hudson H9, and we will let everyone know as soon as they are available.
Wilson Combat EDC X9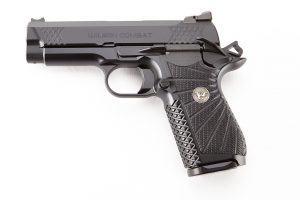 The EDC X9 is a compact double stack 9mm single action pistol that "offers 1911 match-grade accuracy, superior ergonomics, and concealability with modern service pistol capacity and reliability." This pistol was revealed shortly before the NRA Annual Meetings and was on display on the Wilson Combat booth at the NRA meetings. It is also receiving good reviews.
It is about the size of a Glock G19, but has 1911 style ergonomics. It does feature a thumb safety, but it does not have a grip safety. Many people are reporting that it is a 1911 and Browning Hi Power hybrid, but I do not think that is accurate given the new features of the EDC X9. The EDC X9 is available in a railed and a non-railed version (pictured). It is a Wilson Combat, so the quality and innovation comes at a price – MSRP is $2,895. You can read more about the ECD X9 here.  The EDC X9 should fit in holsters designed to fit a 4 inch 1911 (or a railed 4 inch 1911 depending on the model).
H&K VP9sk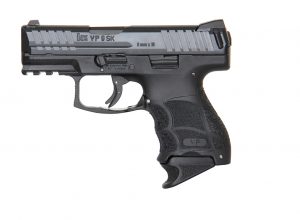 At this year's NRA show, H&K revealed the compact version (or should I say Sub Kompact version) of their very successful VP9 pistol. The new pistol is smaller in all dimensions than the full size VP9, but retains all the VP9's signature features, most notable it's excellent trigger. The VP9sk also has interchangeable back straps and side panels like the VP9, P30, and P30sk. So far, this pistol has sold out all over. We were told our sample "would arrive between now and Christmas". Helpful, huh? More info is available on H&K's website. We are working with MTR Custom to have holsters available for the VP9sk soon.
Springfield XD-E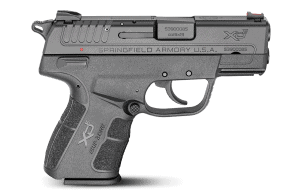 Springfield introduced the XD-E at the NRA annual meetings. I think they surprised and confused a lot of people with this pistol. The XD-E is a traditional double action/single action, sub-compact, single stack 9mm designed for concealed carry.
It is a very interesting product in this space. Most single stack micro 9mm pistols are striker fired designs – M&P Shield, Glock G43, Springfield XD-S, Kahr PM9/CW9. There is a growing segment of the CCW population that prefers a traditional DA/SA gun for concealed carry, so this should be very appealing to those folks looking for a thin, lightweight 9mm pistol that is hammer fired. You can read more about the XD-E here. Don Hume and MTR Custom will be offering holster models to fit the XD-E.
Related Posts