Curiosity
Red dot equipped pistols seem to be everywhere these days. Years ago, I only saw them at local USPSA matches, but now, many folks seem to be giving them a go for concealed carry. The concept was very intriguing to me. I read a few of the early articles on the pros and cons of a red dot equipped pistol, and opinions seemed to range from "it's a terrible idea" to "it's great". Since I try to approach my training with an open mind, I decided I would give it a try…ya know, for science.
Planning
A few years ago (5 maybe?), there were only a few options for mounting an optic on a handgun, and only a few optic choices to mount to your pistol. The popular sight choices seem to be the Trijicon RMR, the Leupold DeltaPoint, and the Doctor 3.  (I personally have never used a Doctor optic, but I have run guns with the RMR and DeltaPoint on them.) Today, there are many companies that specialize in mounting a red dot to a pistol slide. Some companies will not only mill your slide, they produce their own slides already milled for optics (usually Glock slides designed for use with an RMR).
Even mainstream firearms manufacturers are getting into the game with popular models available from the factory already milled and ready to accept a variety of red dot optics. In 2010, FN announced the FN45 Tactical, a few years later S&W announced their M&P Core models, and recently Glock has launched their MOS line.
I wrestled with how to begin this experiment. Should I buy a factory model, get a second slide, have someone mill the slide of one of my existing guns…? Also, which optic should I go with? I had lots of questions, so I started researching on-line, talking to folks at my club, and just generally shopping for ideas.
The Build
I spent the better part of a year researching before I made my decision. I went with a Trijicon RMR (RM-06) with a 3.25 MOA red dot. I have two M&P full size 9mm's, so one of them became a guinea pig.
Full size M&P 9mm before the RMR: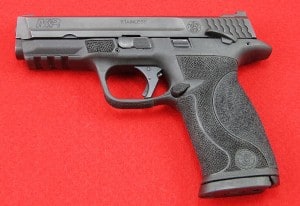 I sent the slide from my Boresight Solutions M&P off for modification. After lots of research, I chose ATEi for the slide work and the mounting of the RMR. ATEi precisely machines the slide to the individual RMR that is to be mounted to it. (Check out ATEi's website or ATEi's Facebook page for more information on why that is so important.)
Here is the result: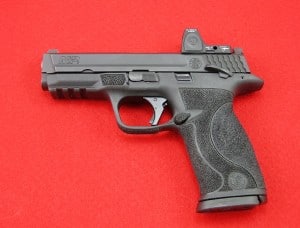 Top View: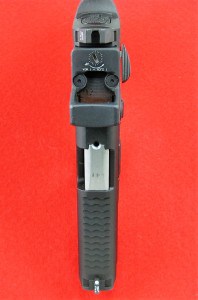 The work done by ATEi is top notch. The slide looks great, and the RMR is rock solid on the gun. While the slide was being milled, I had ATEi install a set of Ameriglo suppressor height night sights, mill top cocking serrations into the slide, and refinish the slide (factory melonite finish). The suppressor height sights co-witness with the red dot in the RMR.
Here is a view looking through the RMR. The camera angle is off slightly, but the red dot does sit on top of the front sight post.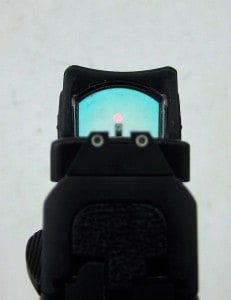 So far, I am very pleased with the results. The red dot sighted pistol has its merits, it has some drawbacks also. In my next post, I will discuss some of my live fire observations and some of my thoughts on this system so far. I will leave the details of the build below. If you have any questions, please leave them in the comments and I will do my best to answer them.
Pistol Specifics:
Base gun – S&W M&P 9mm Full size (4.25" barrel) with thumb safety
Frame Upgrades:
The stippling was done by Boresight Solutions circa 2008/2009. Ben's work is fantastic, and has evolved considerably in the last few years. It completely changed the feel of this M&P in your hand. I know, I know, there are many of you saying "I can do that with a wood burning kit, soldering iron, fill in the blank". No, you can't – not like this. I stippled my other M&P myself, and it came out nice…but it doesn't "feel" as good as this one. I can't wait to get my G19 back from him…
Slide work:
ATEi milled the slide and mounted a Trijicon RMR RM06 that I supplied. They also installed Ameriglo suppressor height night sights, milled top slide serrations, and refinished the slide back to the factory finish.
Related Posts